Sell Sterling Silver Flatware & Silverware
Do you have Sterling Silver Flatware sitting around collecting dust and tired of polishing after each use of your Sterling Silver Flatware set? While many people know that they can sell their gold and diamond jewelry and valuables for cash, they don't realize that they can also sell their sterling silver items for money as well. We are a top Sterling Silver Flatware Buyer.  Sterling silver can actually be quite valuable, whether you are looking to sell sterling silver flatware or cash sterling silver jewelry. One of the great things about selling your sterling silver jewelry or sterling silver flatware for cash is that there are so many different types of sterling silver pieces out there and so many opportunities to sell your sterling silver for cold hard cash or check, and here at The Jewelers and Loan Co., we can help you learn more about selling, exchanging and pawning sterling silver. GET CASH NOW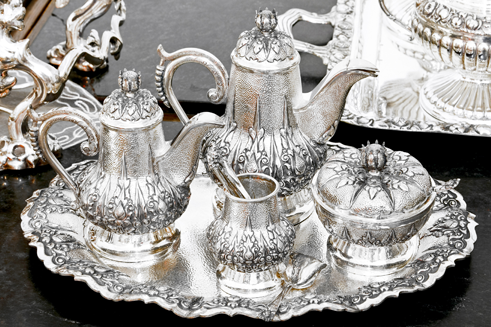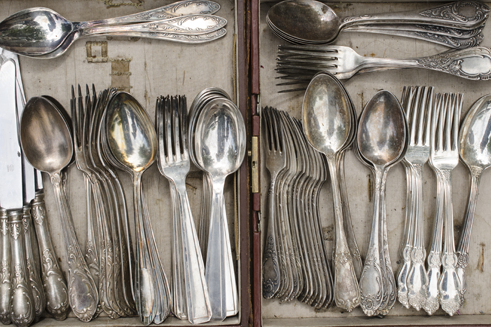 Selling and Pawning Your Sterling Silver Jewelry
There are many customers that come into our Quincy, MA jewelry store and GoldPawnerShip location looking to sell or pawn their gold and diamonds, but what many people don't realize is that the old sterling silver jewelry they have in their drawers at home may be valuable as well.
The old sterling silver flatware that you have not used since Thanksgiving, Christmas, Hanukah, New Years, or you personal special Holiday. Most families want to pass down their sterling silver flatware, but their children have a different lifestyle that are of the generation Y or those so spoiled millennial Uber using generation does not need it. They would rather use, renewable materials that are more in line to their upbringing. While sterling silver does not carry the same value as gold, it can be worth some money, whether you are looking to sell, pawn or exchange your pieces. With time; personal habits also change and sterling silver flatware as a usable tool in the dining room in American households is changing. GET CASH NOW
Sterling Silverware & Flatware Items we Buy
Silver Forks, Silver Spoon, Silver Knives, Silver Serving Trays, Silver Tea Pots, Silverware Sets
Salt pepper shakers
Silver Jewelry
David Yurman Silver, 925 Italy Jewelry, 925
United States Coins Pre-1964
Candelabras
Vases, Sterling Silver Jewelry Boxes
Silver mirrors & Silver brushes, silver combs
Flatware (forks spoons knifes)
Sterling Plates, Sterling Trays, Sterling Bowls
Sterling Silver Cutlery sets, tableware, salvers, pitchers, candlesticks, spoons, forks, knifes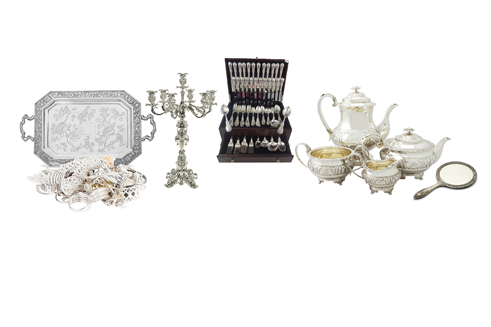 How much is the current Sterling Silver rate?
You can even use this convenient sterling silver market rate to determine just how much your sterling silver pieces may be worth.
Try not to make jewelry or valuable purchases while on vacation as to not over pay for the item and to ensure its authenticity. Buying in the Caribbean sometimes is not the best idea.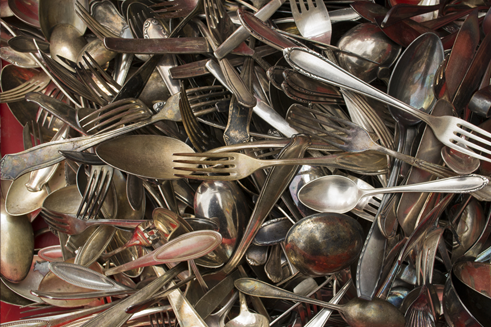 Selling Sterling Silver Flatware for Cash
There are many people who come to our Quincy, MA pawn shop wanting to know how they can sell their silverware for money. Whether you want to sell junk silver or sell sterling silver flatware, we can help you turn these unwanted pieces of silver into cash or help you exchange your sterling silver pieces for something valuable. Whether you want to pawn, exchange or sell for cash, we are the pros here to help you with all of your sterling silver pieces.
Remember, you can make a simple choice if you just want some cash. You can simply pawn or borrow against your items and you get the option of receiving your items back if the terms of the pawn agreement are followed. Or, you have the option to outright sell your items and receive slightly more for your items.
Most people know that they can sell jewelry for cash, but there are other sterling silver pieces you can sell or pawn as well. While we will take virtually any piece that is made of real sterling silver, here are some of the most common sterling silver pieces we see come into our store:
However, we know many potential sellers have a number of questions about gold and its value, before they ever decide to sell and we are happy to give you a price estimate. GET CASH NOW
There are so many people today who have sterling silverware sets, sterling trays, sterling teapots and sterling candlesticks on their hands. Maybe you received them as a wedding gift, or perhaps they ling silver pieces, because they are difficult to clean and care for. You can't put your sterling silver pieces in the dishwasher and they have to be polished to stay looking their best. While you could pass your sterling silver on to your loved ones, most kids won't want sterling silver pieces since they aren't practical, which is why selling sterling silver instead of holding on to it is always a smart option.were passed down form a parent or loved one. Unfortunately, many people today simply don't use their sterling.
In order to get cash for your sterling silver jewelry or sterling silver flatware, you need to make sure that your pieces are real sterling silver. There are a lot of fake sterling silver especially from out of country. The best way to tell is to look for a stamp on your items. However, many jewelry pieces are too small to have a stamp or may be made in a country that doesn't require stamping. This is where we can step in and help. Contact our Quincy, MA Milton, MA store and we can give you a free, no-obligation cash appraisal on your sterling silver jewelry, so you can find out just how much your jewelry or flatware is worth.
Most people know that they can sell jewelry for cash, but there are other sterling silver pieces you can sell or pawn as well. While we will take virtually any piece that is made of real sterling silver, here are some of the most common sterling silver pieces we see come into our store:
Candelabras
Sterling Silver Forks
Sterling Silver Dinner Forks
Sterling Silver Salad Forks
Sterling Silver Serving Forks
Sterling Silver Spoons
Sterling Silver Soup Spoons
Sterling Silver Desert Spoons
Sterling Silver Dinner Spoons
Sterling Silver Serving Spoons
Sterling Silver Knives
Sterling Silver Dinner Knives
Sterling Silver Butter Knives
Sterling Silver Bread Knives
Sterling Silver Salt & Pepper Shakers
Sterling Silver Serving Trays
Sterling Silver Plates
Sterling Silver Platters
Sterling Tea Pots
Sterling Silver Straws
Sterling Silver Tongs
Sterling Silver Souvenir Spoons
Don't see your sterling silver valuables on our list?
You can still bring it in! Just stop by our Quincy, MA pawn shop with your sterling silver items and we will provide you with a free estimate on the value of your sterling silver pieces. If you don't live in the Quincy, MA area, you can even get a quote right online. Then, safely send your sterling silver pieces to us and we will do an on-site in person estimate and tell you how much cash you can get for your sterling silver pieces. It is a no obligation quote, so you can make the decision on what you want to do with your pieces. You can text us a picture, email us a picture, or come in person. Check out our GoldPawnerShip that will change collateral based micro pawn lending for the future in the United States. GET CASH NOW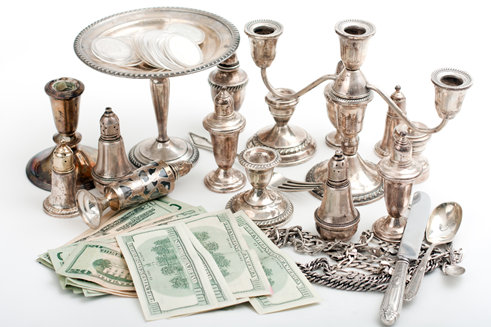 Sell for Cash or Pawn Borrow Your Sterling Silver Pieces Today!
If you want to tell your sterling silverware for money, we are just the place to turn to. We can help you get cash for your sterling silver pieces or pawn your items, and all you have to do is come into our convenient Milton, MA location. Not in the Milton area? We can do the entire process online. It is extremely simple, here's how it works:
1. Click the "Start Pawn Now!" Button right here on our website.
Answer a few simple questions about what you are looking to pawn and what type of situation best suits your needs.
Determine whether or not you want to sell or borrow. Here at our Quincy pawn shop, we do both!
2. Get Your Free Estimate-TODAY!
One of our pawn experts will look over your inquiry and reply to your promptly so you can get the personalized estimate that you are looking for. We will even let you talk to the owner in person, should you have any questions about your estimate or how our process works!
3. Send and Ship Your Items For Free
Once you have received your personalized quote and decided to pawn or sell your items, we will send you a FedEx pre-paid shipping label. Just print and send in your item, it comes fully insured so you can enjoy peace of mind.
4. Final Offer
We will appraise the market value of your jewelry, watch, or valuable and email or call you directly with your final offer, based on our in-person assessment. We have a brick and mortar location and we appraise items every day.
5. Get Money You Need Fast
If you agree to our final offer, we can send a check, wire funds into your bank account, or you can pick up your cash in person. No matter how you prefer to receive your money, we will make sure you get the cash you need in a way that is convenient for you.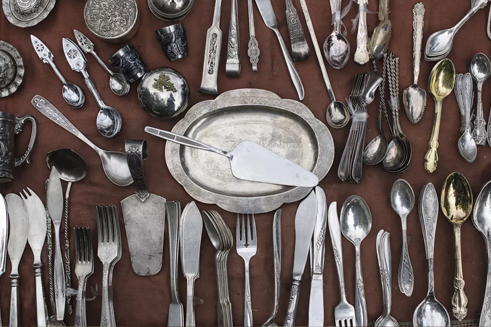 Looking at Silver Plate Marks for Your Sterling Silver Items
We do not purchase silver-plated items, unfortunately. Often have customers come into our jewelry and pawn shop and ask us "I want to sell my sterling silver, but how do I know it is real?" Well the best way to determine if a piece that looks like sterling silver is in fact sterling silver, is to look for a silver plate mark.
These silver stamps typically appear on silver place settings, cutlery and silver flatware. While some countries do not require silver stamps, most do, which makes this such a great way to tell if your sterling silver pieces are real. The most common silver-plate marks are American Silver Plate, Silver on Copper, Quadruple Plate, Triple Plate, Fine Silver Plate, E.P, S.P, E.P.N.S and Special Metal.
Here at our Quincy, MA pawn jewelry store, we pride ourselves on our extensive knowledge of sterling silver jewelry and flatware and on the unique history of sterling silver. We want to purchase your sterling silverware for cash! Always looking to educate & inform our customers on how to get the most money for their sterling silver pieces, here is a brief history lesson on sterling silver.
Prior to 1906 Stamping Act, there was no national regulation for sterling silver.
The 1906 Stamping Act required all items being sold as sterling silver to be marked as sterling.
There are many silver-plated companies in the market that use copper and pewter as base metals and are stamped "silver plate." Stamps that read, "silver plate," only have a very thin layer of silver "plating" over a base metal. Because of this they don't have much value.
Just because an item is a white metal, it doesn't mean that it is real sterling silver or that it is valuable. White metals can be pewter, copper, brass, tin, and several other base metal combinations. Just because it tarnishes; does not make it sterling silver. It is old it must be worth money. Age, is not an immediate indication These sterling silver fakes appear sterling silver at first glance. Stamps such as; Sterling, 925, 925/1000, 900/1000, coin silver, are an indicator of real silver the majority of the time. However, in order for a piece to be classified as real sterling silver, it needs to have a 925 or a 925/1000 stamp on it. This means it is made of 92.5% silver and 7.5% other metals.
When you look at your sterling silver flatware, you may also see the number represented in decimal form as .925. GET CASH NOW
International Sterling Silver Pieces
Many times, customers come into our Quincy & Milton, MA pawn shop wanting to sell international sterling silver pieces. We are happy to accept sterling silver antiques, sterling silver flatware and sterling silver tea sets from all over the world. However, before you sell your international sterling silver flatware, it is important to understand that these sterling silver antiques may be different than U.S. sterling silver items.
If you look at your sterling silver tea set, flatware or other home item and find a set of numbers, you are typically looking for a 925. However, in different countries there are different standards. Here are the standards for different countries across the world. Some of these marks may indicate that the piece is made of silver, but not real sterling silver. Using this silver guide, you may be able to determine where your sterling silver antiques and fine home items are from.
.1000- Japan
.999- Fine Silver, accepted by member of the Hallmarking Convention, which includes: Austria, Cyprus, Czech Republic, Denmark, Finland, Hungary, Ireland, Israel, Latvia, Lithuania, Netherlands, Norway, Poland, Portugal, Slovak Republic, Sweden, Switzerland and the United Kingdom.
.980- Mexico, a common standard of sterling silver in the 1930s
.970-Mexico
.959- Czechoslovakia and Czech Republic
.958- UK
.950- France, Japan, U.S. (2nd half of the 19th century), Netherlands (until 1814), Switzerland, Italy, Yugoslavia, Bulgaria, Romania, Hungary
.948- Russia
.940- Poland, Mexico
.945- Austria, Germany and Switzerland
.934- Netherlands (common sterling silver standard until 1953)
.930- Netherlands (in the 19th century), Germany, Israel, Palestine
.925- U.K., U.S. (sterling silver since 1870), Ireland, Denmark (since 1893), Netherlands, Israel. Today, this is seen as the "worldwide standard" for sterling silver.
.916- Finland, Poland (after 1963), Portugal (after 1886), Russia, Romania, Spani (before 1934), Latvia
.915- Spain (after 1934)
.900- U.S. coin (before 1870), China, Argentina, Germany, Switzerland, Italy, Yugoslavia, Czechoslovakia, Japan, Egypt, Hungary, Lebanon, Turkey
.875- Russia, Baltic States, Finaldn, Poland, Romania, Switzerland, Latvia
.844- Denmark and Norway in the 18th century
.840- Iran
.835- Germany, Netherlands, Austria, Portugal, Belgium
.833- Portugal (after 1886), Netherlands (until 195), Denmark (after 1800), Norway in the 18th century
.830- Norway after 1892, Denmark after 1972, Sweden, Finland, Portugal
.826- Denmark from 1893-1972, Norway before 1892
.813- Germany and Finland
.800- Germany, Italy, France, Japan, Romania, Turkey, Egypt, Lebanon Netherlands until 1814, Poland, Portugal, Switzerland, Spain, Argentina
.750- Germany, Italy, Spain, Prussia, Yugoslavia, Czechoslovakia, Bulgaria, Hungary, Poland, Romania
.700- Lebanon
.687- Germany
.625- Germany
.600- Egypt
If you have questions about your international sterling silver pieces or are looking to authenticate your silver items, bring them into our Milton, MA pawn shop for a free – GET CASH NOW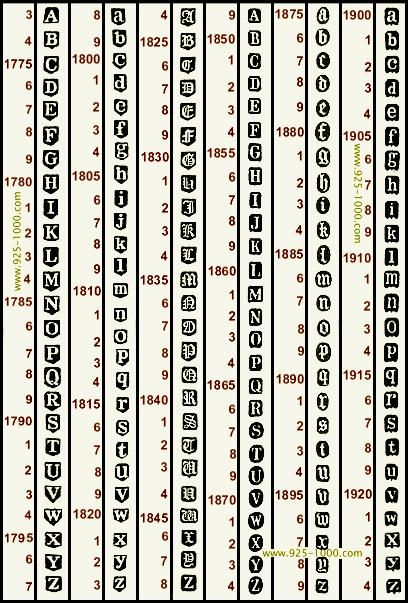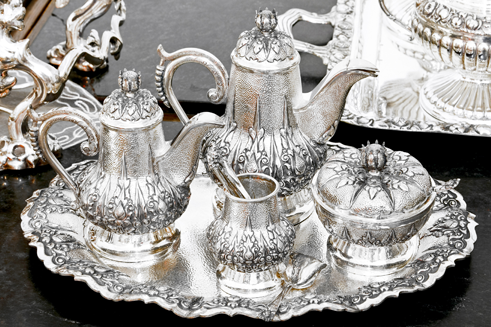 Selling Sterling Silver Antiques and Tea Sets
Here at the Jewelers and Loan Company, we are proud to say we are the leading experts in Milton, MA when it comes to buying sterling silver antiques and flatware. Sterling silverware is actually rarer than people assume, but if you have real sterling silver flatware it can be very valuable. Many silver-colored silverware is actually not pure sterling silver. It may be "coin silver" or only made with 80% or 90% silver (you can tell if your piece is coin silver because it will have an 800 or 900 stamp on it). Other pieces of sterling silver flatware may also be made out of Electro-Plated silver or be made with another white metal base.
If you are looking for a specific sterling silver appraisal and want to know the value of your sterling silver pieces, come into our Quincy Milton, MA store today for a sell or pawn quote.
We buy cash for, pawn, sell your silver and exchange your sterling flatware for all types of sterling silver antiques, platters and tea sets including the following:
Sterling Forks
Tea pots
Trays
Hair Brushes
Spoons, Knifes
Plates
Place Settings
Salt & Pepper Shakers
Tongs
Tea Spoon
Cream Soup Spoon
Place Soup Spoon
Hollow Handle Butter Spreader
Flat Handle Butter Knife
Cocktail Fork
Ice Tea Spoon
Boullion Spoon
Demitasse Spoon
Ice Cream Fork
Sterling Butter Pick
Sterling Gravy Ladle
Sterling Silver Pierced Silver Spoon
Sterling Meat Fork
Sugar Spoon
Sterling Pickle Fork
Lemon Fork
Jelly Server
Pie Server
Sauce Ladle
Sterling Carving Set
Sterling Baked Potato Fork
If you have a sterling silver antique or flatware piece on your hands, we will give you money for it, all you need to do is to visit us on person or start the process online to determine just how much you can get for your sterling silver pieces.
FAQ About Selling Sterling Silver
Here at Jewelers and Co, we know that many people have questions about selling sterling silver flatware, jewelry and antiques. In fact, many people don't even realize that they can sell their sterling silver flatware for cash. We are the Sterling Silverware buyer this is why we have detailed some of the most frequently asked questions about sterling silver and how to pawn, exchange or get cash for these pieces.
How Do I Get a Sterling Silver Appraisal?
If you are looking for an appraisal for your sterling silver flatware, you can come in and visit the The Jewelers and Loan Co. right here in our convenient Quincy, MA location. Text. Call. Email-Us! Don't live in Quincy? That is fine! We can handle the entire process right online or through our GoldPawnerShip App that will be used across the United States. Just log in and tell us about your sterling silver pieces and we can help you!
What Are the Average Sterling Silver Flatware Prices?
This all depends on the current spot price of silver in the open market that day. Over the last ten years silver spot market has ranged between $13.00 per troy oz & as high as almost $50.00 per troy ounce. Typically full sterling flatware sets range on the miss matched set for $100.00 to $5,000.00 & Up depending on the silver spot price, the weight and purity of the silver, along with the age and Silversmith who made it. Don't be fooled by the reality TV Shows that think you have rare pieces that are found every episode on TV. The great thing about sterling silver flatware pieces is that they tend to be quite heavy. The heavier the silver, the more value your silver piece will be worth. To get an idea of the current value of silver, take a look at our sterling silver price calculator here!
I Want to Sell Old Silverware, How Do I Tell if it is Sterling Silver?
We have many customers come into our Quincy, Ma & Milton, MA & soon all over the United States with our GoldPawnerShip App where you can find the closest location near you. Get the fast cash instantly or borrow short term. All in a convenient app on your smart phone. I want to know if they have pieces that are real sterling silver or something else. The best way to tell if a piece is sterling silver is to look for a stamp that has a 925 on it. This is because real sterling silver is made of 92.5% silver and 7.5% other metals, mostly copper. The stamp may also just say that the piece is "real silver" or "fine silver." However, it is important to note that some sterling silver pieces, created in certain countries may not require a stamp. Look for the "Sterling" stamp on the silverware.
If the stamp has a 900 or 800 on it then it is only 90% or 80% silver, or "coin silver." You can also test your piece with a magnetic. Real silver will not strike strongly to a magnet.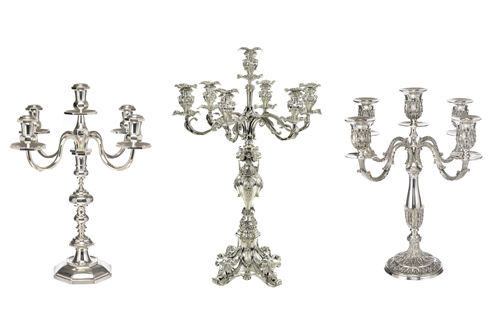 My Sterling Silver Candlesticks are Very Heavy. How Much Cash Can I Get?
This all depends on the actual net-weight on your sterling silver candlesticks, not the gross weight. If you have sterling silver candlesticks to sell, we will take the time to weight each candlestick and compare it to the current market price of sterling silver so you can get the most cash possible for your pawn or sale. The sterling silver candlesticks are weighted with clay or sand and sometime will say weighted. This is the same case for sterling silver candelabras and sterling silver salt and pepper shakers with glass and clay in them. Think of…peeling a tuna can or soup can open and how thin the metal on the top is. This is similar to the thickness of the sterling on these pieces.
My Sterling Silver Knives are Old and Tarnished Like Silver, It Must be Real, Right?
Not necessarily. Just because your silverware looks like sterling silver, it doesn't necessarily mean that your knives and flatware are made of real sterling silver. Real silver is supposed to tarnish, but there are other metals that tarnish, or give the appearance of tarnishing as well. The best way to tell if your flatware is real sterling silver is to look for a stamp on it. The stamp should say .925 on it to indicate that the piece is 92.5 percent silver and 7.5 percent other metals. If for some reason you can't find the stamp, bring your piece into our Milton, MA pawn jewelry store and we can help identify your piece for you.
Sterling Silver Butter knives, sterling silver dinner knives, sterling silver can openers, are very well made and strong. There are actually steel blades on the inside of the handles where the clay is glued and wrapped around so the silver that is thin is surrounded by the clay. The steel rod connects to the stainless-steel cutting blade. Sterling knives have a silver handle, stainless steel rod and stainless-steel cutting blade.
Why does my Silver Tarnish? It must be real!
Sterling silver pieces tarnish because in its purest form, silver is too soft to use for jewelry, cutlery and other pieces, so copper is typically added to the silver to make it more durable. This is why real sterling silver is only made of 92.5% silver. Unfortunately, because sterling silver pieces need to be made with copper to withstand consistent use and wear, they will discolor, because the copper discolors when it is exposed to certain compounds, the air and even oils and chemicals on the skin. In fact, this is why even real sterling silver rings can turn your finger a color.
Over time, any piece of sterling silver will darken or tarnish. A great way to prevent this from happening is to polish your sterling silver regularly to keep it looking its best. GET CASH NOW
What Are the Most Expensive Sterling Silver Brands?
Don't organize yourself. We can offer a cash price to sell or a price to sort your items for a fee. There are several very famous sterling silver brands out there. If you want to sell your sterling silver pieces, you can frequently get a lot more money for designer brands. Here are some of the most popular Silversmiths on the market today, including some of these notable brands:
Alvin
Amston
International Century
Kirk Stieff
Concord
Richard Dimes
Blackinton
Baker
Knowles
Lunt
Towle
Gorham Sterling Silver
Reed & Barton
International Sterling
Gorham
W&D Graff
Howard
National
Mount Vernon
Mayer
Mauser
Manchester
Roger Brothers
Wallace Sterling Silver
Lunt Sterling Silver
Tiffany Silver
Whiting
All of these brands have their own unique trademark. You may notice their name and logo on your piece, which is an indicator that you are dealing with an authentic, name-brand sterling silver item.
If you have these brands, bring them down to our Quincy, MA & Milton, MA jewelry store to see just how much cash you can get for your unwanted items. If you are interested in selling sterling silver flatware, sterling silver tea sets, or any item you think is silver, come to the sterling silver buyers here at the Jewelers & Loan Company of Quincy. We have extensive experience in identifying sterling silver hallmarks and silversmith manufacturer's pictorial stamps so that you can get the most for all of your sterling silver pieces.
Getting Cash For Your Sterling Silver Pieces if You want to Sell Sterling.
Here at the Jewelers and Loan Co. or Quincy, we pay cash and offer confidential and secure pawn loans for genuine sterling silverware, coin silverware, sterling silver spoons, and sterling silver hollowware in any condition. Silver is easily imitated and forged as white metal, which means you will need a formal appraisal in order to determine if your piece is real sterling silver. Come to The Jewelers & Loan Company of Quincy for your professional sterling silver appraisal today so you can get the cash you need for your unwanted silver items. GET CASH NOW